CR: Happy Thanksgiving!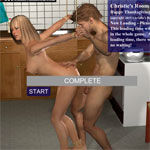 This story took place on thanksgiving day at your house. Your lovely gal was going to cook a tasty turkey for you when you showed up on the scene and decided to drill her pussy right on the kitchen table.
Premium Adult Games
Share this game with your friends!
Similar Games