CR: Virtual Date with Catherine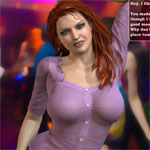 You make your way to your favorite club, recently broke up with your girlfriend and looking for some action. Out of the crowd, you spot a sexy redhead dancing by herself. This is the perfect opportunity!
Premium Adult Games
Share this game with your friends!
Similar Games