Nanny's Day: Revelation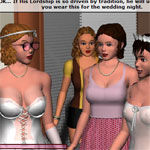 A bouquet arrives for Elisabeth - the Nanny. Turns out that Nanny is getting married to the Baron of Clearwood, and the wedding is next week. Wendy and Cloe want to make sure the prospective husband is good enough for the Nanny, so they go on a mission to see whether the Baron can be seduced by two hot college girls.
Premium Adult Games
Share this game with your friends!
Similar Games