The Exhibitionist
December 28th, 2010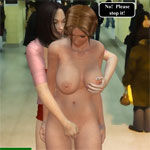 Another sex game from Christie's Room. The name of its heroine is Bristol, slutty beauty who likes flashing in public. Help her to have a lot of sex fun with random passersby.
Virtual 3D Sex Games & Cartoons
How to Play:Playing the game...

To advance through the story, either click anywhere on the screen, or click on a hot spot, which is usually somewhere on or around Bristol's body. Like clicking on her shorts will remove them.

There are two types of action scenes:

1. Hold mouse pointer over a body part, to perform action. Alternate between touching two different body parts until the green meter is full. If you have your mouse pointer over a body part and the meter is no longer filling, that means you should switch to another body part.

2. Hold mouse pointer over a body part, to perform action. In this type of scene, you must fill the green meter without making a lot of noise. Keep an eye on the noise meter. If it fills too much, let it rest for a while, then continue. Continue doing this until green meter is filled. If your green meter goes down, it means you let the noise meter get too high. Wait, then touch the hotspot again.

There's no game over! Just enjoy playing and remember you only need to hold the mouse pointer over a body part in the action scenes. No need to click. You can also let the scene run as long as you want.