Celebrity Virginity In Jeopardy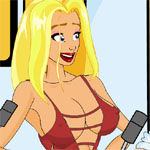 Another good adult game with Charlie. As you know she is a biggest cartoon pornstar. Don't be surprised that her juicy boobs are so popular in show business. Today Charlie with other celebrities invited to a famous French TV show "Jeopardy". Her rivals are Brittney Rears and Sean Bennery. It means that a lot of dirty jokes and vulgar stories awaits for you. Have a fun!
Premium Adult Games
Share this game with your friends!
Similar Games