Dream Job The Interview Part 3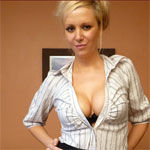 After having had really nice time with Lucy and then with Amanda, the interviews are coming to an end and it should be time for you to announce your conclusion to this lovely candidates. Fortunately, you'll get a call from Miss Trick saving you from this troubles and you'll let the girls learn to know each-other.
Premium Adult Games
Share this game with your friends!
Similar Games