Felatia Alien Sex
March 17th, 2011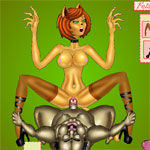 This sexy foxy girl is being banged by ugly space monster. Use YOUR MOUSE to change clothes by clicking items on the right side of the screen or choose actions by clicking buttons on the left side. Enjoy!
Game Size: 6.6 MB
Filed under: Action
Virtual 3D Sex Games & Cartoons
How to Play:This game has no preloader, so please be patient and wait a while till it fully loads.