Fuck Town: Night Rest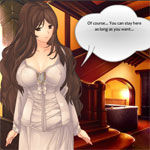 Brock is a royal courier. He was back on his way home with some good new for his king. But suddenly he has been attacked by two muggers. Fortunately he used to escape from them. Wandering in the dark he came across some mansion...
Premium Adult Games
Share this game with your friends!
Similar Games