Lara Kroft - Cock Rider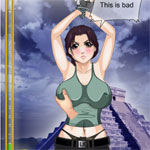 Millions of gamers around the world have played "Tomb Raider" and dreamt of fucking that super hot babe. But Lara has been an untouchable goddess, we could only stare at her big bouncy titties. Luckily that was before today, because now she is totally under your control!
Premium Adult Games
Share this game with your friends!
Similar Games