Lindsay's Laundry Day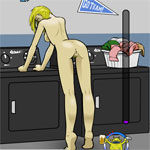 In this game you will meet with Lindsay. She loves to visit the laundry. Men stare at her while she's filling washing machine. Damn, she is HOT! Let's leave moral out! Grab her boobs and put your naughty fingers into her wet pussy! Ohhh yeah... I see she likes it. Take a good moment and fuck her hard!
Premium Adult Games
Share this game with your friends!
Similar Games