Naked God 3 - Forest Foreplay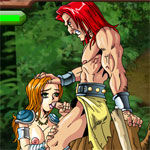 We continue the series of reportages from the Sherwood Forest. Our hero is a woodcutter. He is a very strict guy who's searching a new girlfriend very carefully. Today he needs to test another candidate. It means that our damn sexy chick will be sucking his huge cock as hard as never before!
Premium Adult Games
Share this game with your friends!
Similar Games