Secret Fantasy Dreams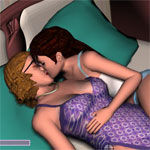 You already well know Wendy and Nanny. Wendy is the pretty young daughter of a rich and respectable family. She received an excellent education in a boarding school and is spending her holidays at her family's mansion. Nanny, the housekeeper, takes care of the luxury house and watches on the girl during the frequent absences of her parents. The young women are spending a lot of time together. Does Nanny remain as too rigid and uncompromising as it seeks to show?
Premium Adult Games
Share this game with your friends!
Similar Games