Sex Stories: First Date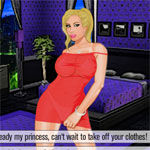 This Sex Story is about Kylie - super hot blond babe, and Roberto - handsome Italian guy. Roberto was at the party last night and got really drunk. He finds some phone number in his pocket and makes a phone call. He asks the girl for a date and invites her to the restaurant. What will happen next? Check by yourself!
Premium Adult Games
Share this game with your friends!
Similar Games