Super Intergalactic MILF Seeding Expert Henshi 2: Milkania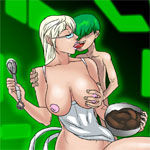 Meet the alien who travels the universe looking for pussy. He found planet earth and abducted a MILF for his sexual fantasies. The game is more than just sex scenes, it has a game play and missions, plus a story line with details about the Sci-Fi universe in which you'll have to complete levels so that you can get to the slutty MILF you want to bang.
Premium Adult Games
Share this game with your friends!
Similar Games