Veronica on the Mystery Island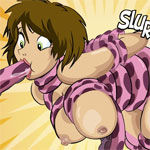 A certain chain of unfortunate events led Veronica to find herself the sole survivor of a plane crash on the mystery island. The strange inhabitants of this place haven't seen a real woman before and all of them have the same question - is this kind of human species fuckable or not? Watch this cartoon porn clip to find out the answer to this question.
Premium Adult Games
Share this game with your friends!
Similar Games