VirtuaGirl Paparazzi
December 1st, 2011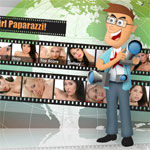 Mission of Paparazzi is to travel around the World and take shots of sexy and famous girls in different countries. Of course, girls have a security, so you have to avoid of being caught. When you finish the level, you'll be able to see 5 really hot pictures of Crissy Moran, Ashley Bulgari, Mandy Dee and other famous VirtuaGirls.
Game Size: 7.4 MB
Filed under: Arcade
Virtual 3D Sex Games & Cartoons
How to Play:Use Arrow keys to control Paparazzi. Use various Pickups: Anchor - Stop at the first border, Red Bull - become much faster than enemies, Weed - Enemies move slower, Pictures - Get extra points, Heart - Get extra life, Camera - All enemies get blind because of flash and stop for a while.