High Tail Hall 2: Glass Room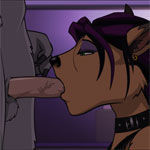 Welcome to the world of the furry hentai sex together with the second part of High Tale Hall. Unfortunately this game is not fully completed yet. That's why only one location is available. Here you can meet and fuck 4 hot furry babes. Have fun!
Premium Adult Games
Share this game with your friends!
Similar Games