Strip Poker with Blanche 2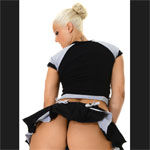 Blanche Bradburry is back for some more fun! She still loves lingerie, tattoos, piercings, staying fit, stripping, and, of course, strip poker. Before settling on Bradburry for her stage name, she considered Badbunny, Badberry, Badblurry, Burrybad and Burryburry. Not sure she chose the best one, to be honest.
Premium Adult Games
Share this game with your friends!
Similar Games