Strip Poker with Carmen 2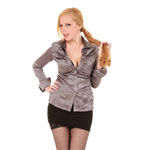 The lovely Carmen is back for another game of cards. It looks like she's been busy pursuing a high powered business career, and is certainly dressed to kill in the boardroom. Are you ready to launch your takeover battle?
Premium Adult Games
Share this game with your friends!
Similar Games