Strip Poker with Vinna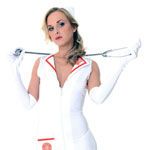 The lovely Vinna Reed was an English Literature major at University, but now she works mainly as a private Nurse. Got a medical problem? And no one else can solve it? And if you can find her. Maybe you can hire Vinna?
Premium Adult Games
Share this game with your friends!
Similar Games