Candy Shop - Christmas with the Stewarts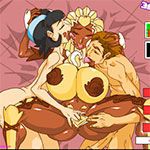 There is a small delicate problem in the Stewarts family that we will discuss today. It looks like Mr. Stewarts is always busy at work even when he is at home and he never has time for his wife. The lack of sexual attention drives Mrs. Stewarts crazy and she always dreams to be fucked hard by her husband. On Christmas day she finally gets it.
Premium Adult Games
Share this game with your friends!
Similar Games