Hentai Artist 5: 3D Blondies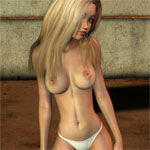 Goal of every game from Hentai Artist series is getting new pictures with beautiful hentai chicks. This part is not an exception. This time author has prepared 8 images of sexy hentai blondes. You should pass all the levels to unlock them.
Premium Adult Games
Share this game with your friends!
Similar Games