Pussymon: Episode 06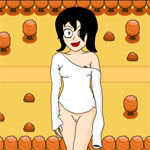 Halloween version of Pussymon quest is up! This is the biggest update the author made till now, there're many new things, lots of new mechanics, new items, quests, stories and much more. So lets start to celebrate the Halloween.
Premium Adult Games
Share this game with your friends!
Similar Games