Sakyubasu No Tatakai II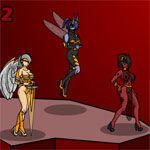 For those of you who're not familiar with that game I strongly recomend to check out the first part and find out how the story began. Our heroine is involved in the war between demon clans. Manage your little army and lead it to a victory!
Premium Adult Games
Share this game with your friends!
Similar Games