Upskirt Negotiations: Let's Draw A Picture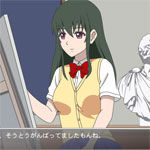 Even if the exact story line of this adult game isn't clear, the main goal is still obvious - to get laid with a lady. You play as a japanese guy who wants to seduce his classmate in the art school. Unfortunetely, there is not english subtitles and all you can do is trying to find the right pickup line by luck.
Premium Adult Games
Share this game with your friends!
Similar Games