Real 3D Jigsaw Puzzle: Catie Minx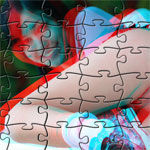 Porn star Catie Minx has come back to be represented in another puzzle game. This time you have an opportunity to see her naked photos in 3D mode. If you don't have 3d glasses there's a regular mode.
Premium Adult Games
Share this game with your friends!
Similar Games