Sexy Chick Puzzled Part 2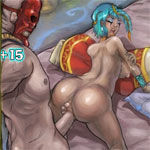 This is second part of Sexy Chick Puzzled. There are 6 new levels with original hentai art. The gameplay stayed the same, you should find all the differences between 2 images and then collect a simple rotation puzzle.
Premium Adult Games
Share this game with your friends!
Similar Games