VirtuaGirl Difference Game 2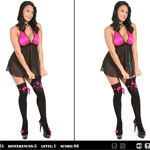 I think you remember 1st part of this difficult difference game. Use all your attention skills to find 6 differences in all 20 levels to get the highest score. Join our busty stars Sarah, Satin Bloom, Sendy Silver, Bernadette & Nikky Case, Vicky S & Eufrat. Find differences as quick as possible to get more points.
Premium Adult Games
Share this game with your friends!
Similar Games