1HG: Hot Summer Nights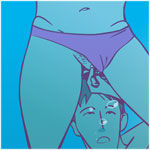 Your mission is to follow your hot girl next door, find her, play with her at the pool and other funny things. This game is not so easy as usually adult games do. Day by day, investigate surroundings, go to pool, then go back to sleep. So change your outfit and go swimming.
Premium Adult Games
Share this game with your friends!
Similar Games