Breeding Season Alpha 5.3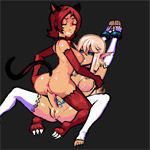 What we have for you today is a new update for the monster farm simulator game. If you played the earlier releases of the game you might be already known that the priority task in the game is to breed as many different kinds of sex addicted demons as you can.
Premium Adult Games
Share this game with your friends!
Similar Games