Inspector J Episode 8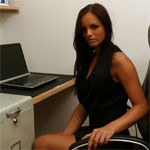 J is back in this episode of our pornographic game saga. It's really time to play because this time, the ending is really close. After having found pictures that seem to prove definitively the Mayor's guilt in our case, Inspector J go back to the station and discover the DA in Mia's office. She's very excited about the evidence and it makes her really horny. You'll have to handle your naughty boss by playing the game. You'll have to fulfill her nymphomaniac needs without going too far. Like always, your superior pleasure is an important factor for your career.
Premium Adult Games
Share this game with your friends!
Similar Games