Pussymon: Episode 03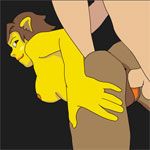 After I subscribe to the tournament, Lara sent me to the nearest town and asked me to find her Aunt Sarah, according to Lara, Sarah knows several places to capture new Pussymons, and this can help me become more prepared for the tournament, Lara said that if I help her aunt, surely she will give me a map with the coordinates for these locations. So, began my journey to Sarah 's house.
Premium Adult Games
Share this game with your friends!
Similar Games