Geo Quiz with Lucy and Amanda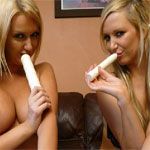 Two gorgeous girls from the UK are here today just for you to make you learn all the capitals of the world. For each good answer, you've got a nice new pic to watch and if you're good enough, you've got a whole video to enjoy. It'll be hard to find nicer ways to learn about geography!
Premium Adult Games
Share this game with your friends!
Similar Games