Topless Darts with Brandy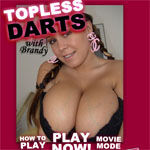 The long awaited Beijing Olympic Games began. Your darts coach Brandy gives you incredible support. She's prepared new personal training system for you. She will be slowly dancing and stripping down in front of you. But damn darts board hides her huge round tits from you. Throw the darts to board sectors to make them transparent. Open a whole board to see her breasts. Good luck!
Premium Adult Games
Share this game with your friends!
Similar Games