Sexy Chat with Blanca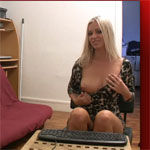 Today's game is a virtual chat. Your objective is to get that sexy blonde out of her clothes. It won't be very difficult. Just go ahead and use your pickup skills at practice. This adult game included a lots of video content, so please be patience while it is loading.
Premium Adult Games
Share this game with your friends!
Similar Games