Strip Poker Harem Dreams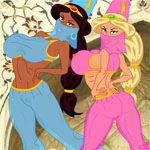 Hi! Your name spread throughout the world with lightning speed. Two busty girls from arabian sheik's harem have knew that you're master poker player. They're very naughty and know everything about lesbian love. These sweet beauties will be strip down every time when you beat their cards. Your game turn into a Hot Sex when you completely strip them.
Premium Adult Games
Share this game with your friends!
Similar Games