Subway Fucker Part 3
September 2nd, 2009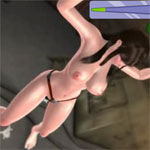 This is going to be the hottest part of Subway Fucker series. James bought on eBay magical fuck-machine is called "Mastrumoto 4000". And now he wants to try out how it works on slutty Megan. Help him and then you will know how this history has ended.
Virtual 3D Sex Games & Cartoons
Copy and paste the code below to add "Subway Fucker Part 3" game to your blog or website.