Venona Project Episode 1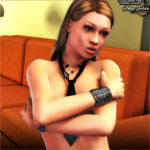 Last night was wierd for our hero Kyle. He was drunk like a fish and falled in love with his best friend's girl Julia. The next morning, Kyle came back to his bachelor apartments and starts to prepare it for Julia's visit. Will see what happens next.
Premium Adult Games
Share this game with your friends!
Similar Games