Crash Landing Part 2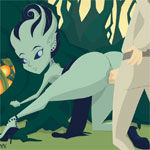 In the first part of this game our space explorer found out that the planet his starship has been crashed is inhabited by sexy female aliens. The one of them, called Aaliyah, made him awesome blowjob. Now it's your turn to pay her back.
Premium Adult Games
Share this game with your friends!
Similar Games