Desire and Submission Part 1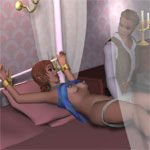 Alancy has just married Florian who is the Count of Malfort. From now on she will live at his castle, where he reigns supreme, this in spite of his frequent absences. He sets the rules for life in the castle, and enforces them with the help of Martin, the domain's overseer, and Li-Ann, a young lady who functions as the head of the housekeeping staff. Florian is deeply in love with Alancy and will try to make her into a submissive woman ready for any and all experiences.
Premium Adult Games
Share this game with your friends!
Similar Games