Married with Charlie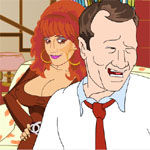 Today is special for Charlie. She got a role in the famous TV show. Did you hear something about Al Bundy? Yup, that's right, it's "Married... with Children". But what a show with Charlie without HOT sex? Today is not exception. Watch and having fun with this freakish family.
Premium Adult Games
Share this game with your friends!
Similar Games