Rei F-Series
September 18th, 2009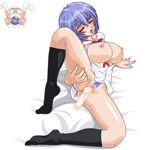 Our today's heroine is Rei Ayanami. Did you hear about her before? She is a fictional character from the Neon Genesis Evangelion anime series. Today you're going to meet closer. You can strip her down, play with her boobs and fuck Rei using pink didlo. Also you can change her outfits and poses. Have fun!
Virtual 3D Sex Games & Cartoons
Copy and paste the code below to add "Rei F-Series" game to your blog or website.