Splatman and Throbin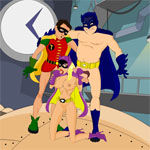 There is a new funny story of Charlie. This time she helps Splatmen and Throbin to protect the Gotham City. These superheros are so stupid! Every time they get in troubles. But don't be afraid they're save with Charlie, cuz she knows way out of any situation! As usual here is a lot of dirty jokes and wild sex.
Premium Adult Games
Share this game with your friends!
Similar Games