The 36th Annual Asscars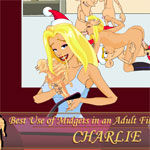 Tonight is HOT in Los Angeles. Tousands of noobie and famous pornstars club together. All they're waiting for a start of Annual Asscar ceremony. Charlie has a good chances. She's nominated in the three categories! Wish her good luck and will see what will happen.
Premium Adult Games
Share this game with your friends!
Similar Games