The Curse of Cracklevania 2
October 23rd, 2010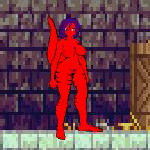 This is the second part of The Curse of Cracklevania sex game. Help the busty furry babe to get out of the labyrinth and not be raped by the evil monsters. Good luck!
Virtual 3D Sex Games & Cartoons
How to Play:Use ARROW KEYS to move around. Use "S" KEY to jump and "A" and "D" KEYS for attacks. Press the SPACEBAR for map and inventory.