Math strip with Miss Angel Rain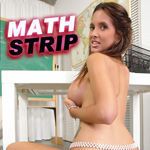 Funny game. Miss Angel Rain invites you to her math lesson. Came in and be a good pupil. Do you think this will be boring? Just Not Today! Miss Rain has a very interesting teaching method. Have you noticed that she has a gorgeous body? Want her? That's easy, just answer her simple math questions. Do it right and very soon she'll be fully naked. But be careful you may give a wrong answer only three times.
Premium Adult Games
Share this game with your friends!
Similar Games