Panthea v1.3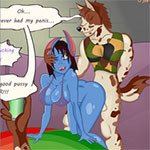 Here is one more update on a furry sex game that we posted earlier. In the game you meet a beautiful girl named Casey who lives in a world of animals that look human. Casey does her best to be helpful at work and to not get bored of her life as well...

PS: The game has no preloader. If you see a white screen for some time, please wait until the game begins.
Premium Adult Games
Share this game with your friends!
Similar Games