Gangster Strip Blackjack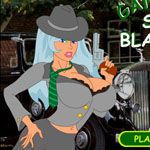 The Queen of Italian mafia thinks that she is a master player. This busty beauty invites you to play a strip blackjack. Rules of this game are simple. Try to get points as close to 21 as possible, without exceeding 21. If you win then she takes off some part of her cloth and you may look at her attractive body. If she wins - you lose your money. Prove that you are lucky, make she naked. And when she has nothing to take off then you fuck her.
Premium Adult Games
Share this game with your friends!
Similar Games