Candy Shop - Lemon Drop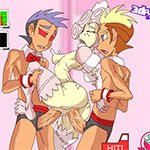 The guys from Bo Peep Co candy factory were going to spend their day off by jogging in a forest outside the city, but their plans were ruined by the females of the crew. The girls forced them to run the sequence of crazy tests over a new candy-girl with a lemon flavor.
Premium Adult Games
Share this game with your friends!
Similar Games