Diva Mizuki Sex Show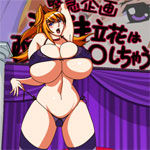 About the year we did not see those amazing BIG boobs! And finally... she is back! Please make her feel welcome, Diva Mizuki! Today, she will be a prime star of a new sex show! Unfortunately this show takes a place in Japan and it would be hard enough to understand what they're talking about. But it doesn't matter, click all around and HAVE FUN!
Premium Adult Games
Share this game with your friends!
Similar Games